Allison Grayhurst
CANADA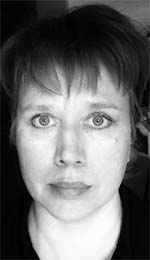 Allison Grayhurst is a member of the League of Canadian Poets.
Twice nominated for Sundress Publications "Best of the Net" 2015, s
he has over 685 poems published in more than 325 international journals and anthologies. Her book
Somewhere Falling
was published by Beach Holme Publishers in 1995. Since then she has published eleven other books of poetry and six collections with Edge Unlimited Publishing. Prior to the publication
of Somewhere Falling
she had a poetry book published,
Common Dream
, and four chapbooks published by The Plowman. Her poetry chapbook
The River is Blind
was published by Ottawa publisher
above/ground press in
December 2012. In 2014 her chapbook
Surrogate Dharma
was published by Kind of a Hurricane Press, Barometric Pressures Author Series in October 2014. More recently, she has a chapbook
Currents
pending publication this Fall with
Pink.Girl.Ink. Press.
She lives in Toronto with her family. She also sculpts, working with clay;
www.allisongrayhurst.com
Green Haven and You
I dream this early morning of
you, trading
all you own for love.
Birds walk on water, cooing the river
still. Two bones
lie buried beside the bank,
grey with decay, anonymous
as each fallen red-vein leaf.
I walk to your favourite rock
still cold from night. There are
ten stars in the sky
visible as ten snowy owls
undone by dawn.
I dream of you across the vaulted miles.
You live inside my forming smile and in
the colours flooding the horizon, in
the almost-zenith sun,
advancing.
© Copyright, 2015, Allison Grayhurst.
All Rights Reserved.