Jennifer Lagier


Page 2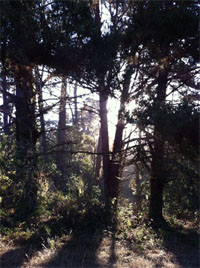 Wake Up Call
I climb the ridge trail; hidden owls hoot
from awakening forestís impenetrable depths.

At this elevation, wind whispers among oak
joined by the rumble and whoosh of incoming surf.

Acrobatic squirrels skitter up pine trunks,
scold my trespass as they leap, limb to limb.

Invisible sea lions challenge one another for dry beds,
their grouchy barking distorted by distance and hills.

Teal waves cream ashore in lazy grandeur.
Grinning pelicans skim dark turquoise waves.
© Copyright, 2013, Jennifer Lagier.
All Rights Reserved.