PoetryMagazine.com



Jenny Factor
USA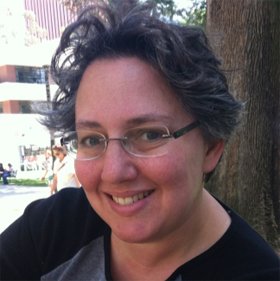 Jenny Factor is an archaeologist of object and mind; she is also a feminist, a mother, and a dog-lover. Her poem collection,
Unraveling at the Name
(Copper Canyon Press), won a Hayden Carruth Award and was a finalist for the Lambda Literary Award. Factor's poems and reviews have appeared in more than a dozen anthologies, including
Poetry 180
and
The Best American Erotic Poems
(Scribner, 2008). Her work has been supported by an Astraea Grant in poetry. Jenny Factor received her MFA in Literature from Bennington College, and her B.A. in Anthropology from Harvard College. She serves on the Core Faculty at Antioch University Los Angeles, the only MFA program with a dual focus on literature and the pursuit of social justice.
Diptych
My son, singled, struck and stung,
by that unprosecutable blow, the schoolyard
skim, is such a small and serious person,
darkly deliberating interactions, skirmishes,
schoolchildren. He empties out his haul
of stories over a buttery grilled cheese dinner
on our linoleum kitchen-floor. I ask myself
if he's thinner than before. Fallen from grace,
he's still my grace, the sinewy 5 year old
I half-constructed with love from a daily mitigation
of my separate needs, mistakes, whims.
I kiss his day-weary wholesome face.
He wipes the kiss away. Unhelped, uncertain.
The sinewy 5 year old I tried to rescue
from my separations: need, mistake, whim
loves the creature in me I wish I weren't
when he courts the darts of school children.
Home, I try to hold myself
to his game of knights and dragons
where he likes to rewrite the rules.
But my wings are chafing against my body
and I can feel the fire breath
singeing him, as he tells the stories he drags home
from school. There is no rescue from this forest
of childhood game play and maternal
misstep and mistake. While reading the paper, I cup
the head I cherish. He smiles at my…distraction!…
then uncertain, he wipes the kiss away.
--Originally published in

Margie
© Copyright, 2015, Jenny Factor.
All rights reserved.